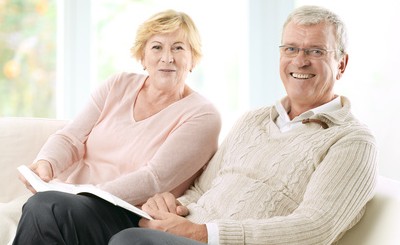 How much time do you spend educating your patients on hearing loss, and how effective is that education?
1. The office environment is a difficult place to capture patients' attention
Patient education is a major challenge.
While we strive to help patients make the best decision for their hearing needs, they are often overwhelmed by the office environment.
2. Hearing Basics educates patients in the comfort of their own home
Hearing Basics removes the barrier of the office environment, and assists you in informing the patient about hearing loss. The Hearing Basics booklet is an easy way to increase the knowledge and buying power of your current customer base. Concise and easy to read, it gives them an opportunity to discuss hearing loss with loved ones at home, and review the pertinent facts at their own pace.
3. Hearing Basics retains patients, sells higher cost products
Informed patients are more likely to purchase advanced technology hearing aids and less likely to return products. The result is a more efficient visit and satisfied clientele.
4. The first sale will pay for this investment
In addition to the benefits of a teaching assistant in the patient's home, these booklets can easily pay for themselves.
Here's how: simply send the Hearing Basics booklets to general practitioners within your market. Include your contact information to make it easy for new patients to find your office. Take good care of that patient and the benefits are exponential.